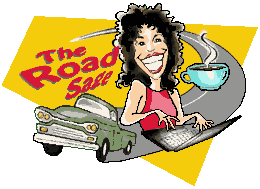 Attention, travel industry!! Wanna win a million dollars?
Cool, I've got your attention. And no, this isn't about a sweepstakes -- it's about sponsorship. At The Road Sage, we believe in working together with the travel industry in order to bring useful, timely and fun content to the traveling public. That's why we're looking for a few -- heck, maybe just one -- travel-related services companies to come on board as a sponsor and help put our message out. Hotels, car rental companies, automobile associations -- yep, we're looking at you. That said, we're looking for the right travel company, one which understands the beauty of the Internet as the medium for reaching savvy travelers worldwide.
Any travel industry folk who are itchin' to spiff up their online presence with a concept website (this one) that knows what their customers want in the way of good travel info should drop us a line. Hey, marketing has never been more fun! Which is exactly how The Road Sage wants it.
email me now!
return to top
roadsage home