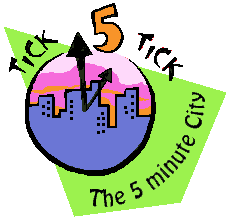 Zion Rocks
Zion National Park, in Southwestern Utah, is a colored-rock wonderland for hikers and gawkers alike. It took millions of years to "build" this place so be a sport and give it a couple days of your time -- at least. Your time at Zion might go something like this.
Where to stay: The Snow Family Guest Ranch is in the town of Virgin, about fifteen minutes from the Park. As the name suggests, this is a (horse) Ranch for Guests -- a bed & breakfast on the range, if you will. The affable hosts, Steve and Shelley Penrose, are lifetime residents of Utah who know the lay of the land. Take a trail ride with Steve if you're so inclined, or enjoy Shelley's tasty breakfast liberally sprinkled with Snow Family tales. At night, relax in one of two cowboy-motif living rooms, finally retiring to your multi-pillowed bed. Little Joe Cartwright never had it this good. Snow Family Guest Ranch, Virgin, Utah (801) 635-2758 or (800) 308-7669. Rate is $105 for a double room, including breakfast .
Where to eat: The Bit & Spur Saloon , in Springdale (a stone's throw from the park), is a Mexican restaurant cum saloon which has the only full liquor license in town. Stop in for a margarita and some New Mexico rabbit enchiladas, although the roasted tomato and wild mushroom tamale isn't a bad choice, either. Zion Pizza & Noodle Company, also in Springdale, is the place for a tasty pie (pizza, please) and some interesting pasta dishes (Thai noodles with chicken in a spicy peanut sauce). If you can't hit the trail without a cup a joe, stop in at Mean Bean a few doors down and get a double latte from owners Michelle or Joe. The brew du jour will probably be Raven's Brew, a specialty roast shipped in from the wild woods of Alaska.
What to do: It's all about the Park at Zion, as well it should be. Enter into this majestic and wonderfully accessible national park and stop in at the Visitor's Center first, the better to acquaint yourself with current trail and weather conditions. Next, choose a trail, depending on your taste and ability. The Riverside Walk is at the end of the Zion Scenic Drive and is an easy walk to the Virgin River. Once at water's edge, roll up your pants and start wading. The water here is cool in the summertime and the river's level at this spot is relatively low. Splashing contests are at your own risk. The Emerald Pools trail can be done in three stages -- Lower Pools, Middle and Upper. Count on about three hours roundtrip for all three, and while each stage is a bit tougher, the views only get better. Angels Landing is a more strenuous choice and should be reserved for those with little or no fear of heights. It's the last stretch of this trail which might get to you, for it's narrow, steep and...well, the view at the top is beautiful.
A little bit more: Zion National Park is roughly two hours from Bryce National Park, the North Rim of the Grand Canyon and that other playground, Las Vegas. Think about using the Zion area as home base while you explore the surrounding attractions.
There's a lot more going on in Zion but you'll have to read the story to find out!
email me now!
return to top
back to 5 minute cities
roadsage home